Karen Llewellyn and Victoria Walzak-Mosca present YWCA Hamilton CEO, Denise Christopherson and Director of Philanthropy and Communications, Sarah Ernest, with a cheque for $60,000 on behalf of HGCC Par for a Cause in support of the Women Build Hamilton campaign and the Putman Family YWCA
YWCA Hamilton is offering our sincere thanks to the Hamilton Golf and Country Club (HGCC) for their support of the new Putman Family YWCA through their Par for a Cause golf tournament!
Thanks to the generosity of the HGCC members and staff, YWCA Hamilton received a donation of $60,000 for the #WomenBuildHamilton campaign – the largest donation in the club's history.
These funds will help our YWCA Hamilton provide safe, permanent and affordable housing for 50 women and women-led families at the Putman Family YWCA on Ottawa Street. Not only does this state-of-the-art building in the heart of the Crown Point neighbourhood provide women and families with a beautiful home, it also offers wraparound supports, programming, and community spaces.
We are currently working towards a bold $5 million fundraising goal to help cover the costs of this ground-breaking new building – and thanks to the generosity of the HGCC women's section fundraiser, we are one step closer to achieving our goal.
The Par for the Cause tournament, which celebrated its 19th anniversary this year, is held each summer in support of a local charity. It was chaired by an entirely woman-led team: Victoria Walzak-Mosca, Melanie Oster, and Karen Llewellyn. This year, 110 women participated in the fundraising event.
"We can attribute the success of the event to the charity we chose because it was about women supporting women," said Karen. "But it wouldn't have been possible to raise that money without the overwhelming generosity of the membership."
"We are so incredibly grateful to Karen, Victoria, Melanie, and the entire HGCC team for helping support the Putman Family YWCA build through this woman-powered event," said Sarah Ernest, YWCA Hamilton Director of Philanthropy and Communications. "Amazing things happen when women support women – and we are so grateful to have the support of such an iconic Hamilton institution."
This generous donation is helping us to reach our ambitious #WomenBuildHamilton fundraising goals before our March 2023 deadline. We are getting so close to the finish line, with only $600,000 left to raise – but we need your help to put us over the top!
There are many ways to support us as we fundraise to cover the costs of the Putman Family YWCA, including making a donation online, joining our Builders Circle, shopping our YWCA Hamilton store, and participating in our "Tap to Give" campaign by hosting a touchless donation station at your businesses or event.
Help us fund affordable housing for women and families!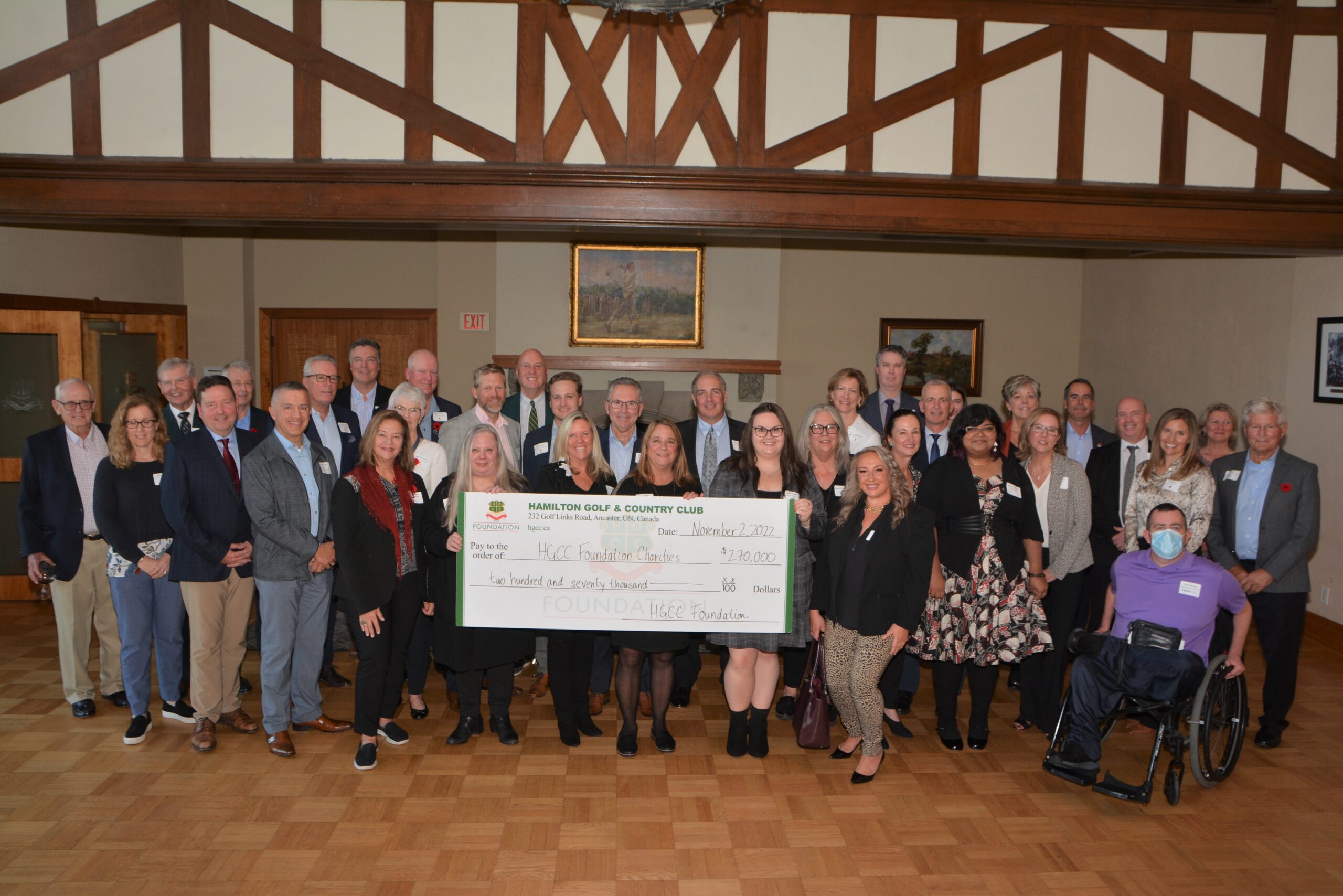 Hamilton Golf and Country Club present $270,000 in total to local charities including YWCA Hamilton's Women Build Hamilton Campaign.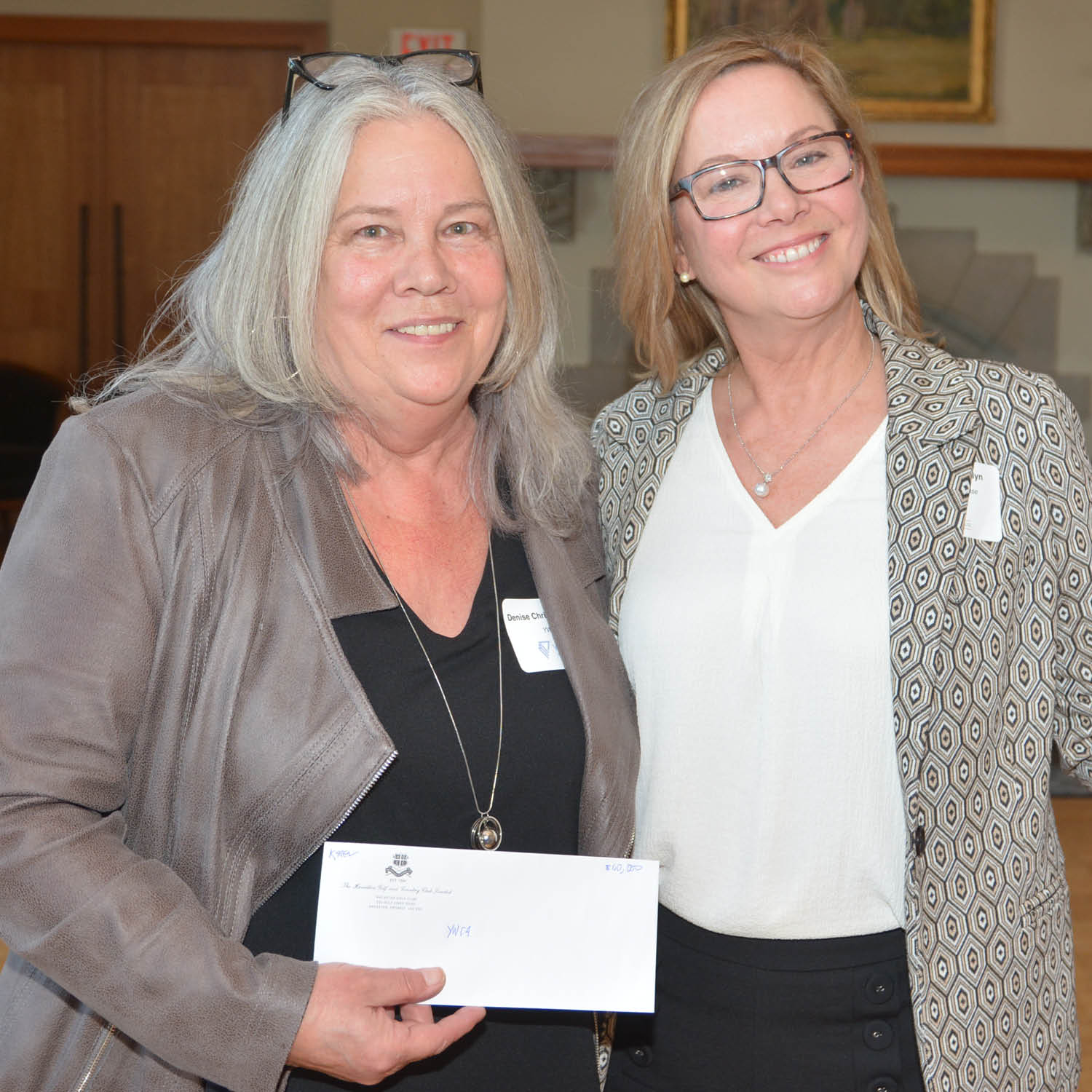 YWCA Hamilton CEO, Denise Christopherson receives cheque for $60,000 from Hamilton Golf and Country Club Par for a Cause Organizing Committee member, Karen Llewellyn.