Experts in Women's housing
YWCA Hamilton is once again at the forefront of creating innovative housing solutions by delivering first-of-its-kind, women's-only, affordable housing to the Hamilton community. After more than 90 years of serving the Crown Point community, our former building on Ottawa Street was no longer sustainable, nor able to meet the changing needs of the community.
We're There for Those Who Need Us The Most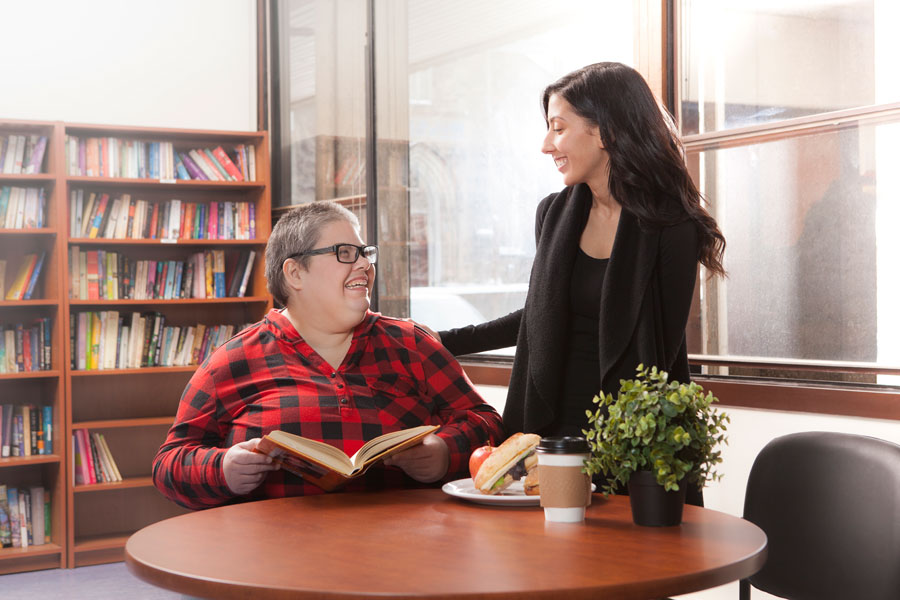 The new Putman Family YWCA will provide homes for women and families at affordable rental rates. Residents will have lease agreements with YWCA Hamilton and may stay for as long as they need or desire, benefitting from long-term security and the stability of a permanent home
Although our doors are starting to open, we're still not finished. The Covid-19 pandemic has delayed our efforts and we need you to help us get to the finish line.
January 2019
$17.3 million committed to the Putman Family YWCA from all 3 levels of government and YWCA Hamilton contributes $1.9 million
April 2019
The foundation was laid and shoring completed.
March 2020
The Putman Family generously donates $1 million and the Ottawa Street YWCA bares the Putman Family name.
September 2021
Community and sector partnerships are established to prioritize wrap-around supports for tenants; prioritizing women who are Indigenous, who have experienced homelessness, violence and those with developmental disabilities.
December 2021
Women and families begin to receive keys to their new homes and phased move ins begin.
March 2022
#WOMENBUILDHAMILTON campaign launches to raise the remaining $5 million required to complete the build
Housing for Women and Children
50 affordable apartments
28 one-bedroom units
6 barrier-free one-bedroom units
10 two-bedroom units
6 three-bedroom units
15 of which are dedicated for adults with developmental disabilities
Wraparound support for residents including goal-planning, skill-building, resource navigation and supportive counselling
Rooftop garden and community spaces
Passive House design ensuring high levels of comfort and sustainability
Innovation, community and Seniors Spaces
Innovation Centre dedicated to providing employment training, social enterprise and micro-lending, new apprenticeships and business start-up support
Seniors Centre encouraging active living and engagement for citizens 55+
Health and wellness programming including fitness, yoga and more
Community Atrium promoting neighbourhood connections and youth programming
Flexible spaces for community partner use and rentals
Of the 50 units, households include women and children…
who are Indigenous
who have experienced domestic violence
with developmental disabilities
with mental health issues
with mobility challenges
who have experienced homelessness
This innovative first-of-its-kind development for women and families has been brought to life through the vision of Kearns Mancini Architects, whose award-winning projects have included the Regent Park and Don Mount Court/Rivertowne neighbourhood redevelopments, and the Centre for Addiction and Mental Health.
YWCA Hamilton has incorporated Passive House design into the build. Passive House buildings allow for heating and cooling related energy savings of up to 90 percent compared with average new builds.
We are leaders in green, sustainable building by using available energy sources such as body heat from residents and solar heat from specialty windows activated for all seasons. Insulation used in Passive House design keeps heat out during the summer and better retains heat in the winter, which makes good business sense as it will allow us to reduce future facility operating costs.
"We proudly support YWCA Hamilton in delivering safe and affordable housing for women and their families. Schilthuis is committed to providing community members with an energy efficient and cost effective space that will be sure to last a lifetime."
President, Schilthuis Construction Inc.
The images below provide a glimpse inside the Putman Family YWCA at a work in progress. Although we're still finishing spaces, we encourage you to stop by and view our space in action.
5,000+ SERVED ANNUALLY AT THE PUTMAN FAMILY YWCA​.
MAIN FOYER
The Putman Family YWCA welcomes all members of the community in our foyer, where visitors will find reception and seating areas, our #WomenBuildHamilton donor recognition wall, as well as access to interior and exterior community spaces.
CENTRE OF INNOVATION
Nestled in the heart of the Crown Point neighbourhood, the Centre of Innovation will be a leading Canadian centre of excellence providing comprehensive support to the economic empowerment of women and gender-diverse people. It will fuel an entrepreneurial environment conducive to business innovation, leadership and growth. The Centre of Innovation will benefit more than 3,500 individuals annually as they engage in our programs focusing on leadership, training and entrepreneurship ranging from training in non-traditional occupations for women including the skilled trades and STEM fields, to corporate leadership, and entrepreneurial supports. Now more than ever, we know that financial security to be able to respond to our changing world.
COMMUNITY ATRIUM
At the heart of the Putman Family YWCA is the Community Atrium where women, children and families will gather to participate in YWCA Hamilton programs and services. Flooded with natural light from soaring windows, this space will bring together Hamiltonians of all ages, abilities and backgrounds so they can connect with one another and strengthen the social fabric of the Crown Point community. Located on the lower level, the Community Atrium includes open seating, a community kitchenette and multipurpose space for community gatherings and conversation. The Community Atrium will promote neighbourhood connections through safe, accessible spaces, and will meet the changing needs of the community.
COURTYARD & COMMUNITY GARDEN
Empowered by the Yates Family, the Courtyard and Community Garden Accessed will benefit countless women and families annually through programs and services. From increased food security to horticulture therapy, the courtyard and community garden will serve as a beautiful outdoor space for residents and community members to develop meaningful connections with each other and with nature. Community members will participate in gardening, learn the importance of eating seasonal fruits and vegetables and enjoy taking in the fresh air or reading a good book while sitting on benches overlooking garden boxes. The Courtyard and Community Garden will be a tranquil place for community members to reconnect.
ACTIVE LIVING CENTRE 55+
Located on the main level of the Putman Family YWCA, the Active Living 55+ Centre provides affordable programs and services for adults 55+ to enrich and support independent active living, and will offer a variety of health and wellness programs to promote physical and emotional well-being. This bright and functional space will host programming focused on skill development and strengthen social and peer relations to build community and connections with other seniors. The Centre will serve 400+ seniors annually by promoting social inclusion and improving health and well-being.
YOUTH ZONE
Empowered by Nancy and Patrick McNally, the Youth Zone is a space designed for and by young people. Located on the lower level next to the Community Atrium and Innovation Centre, the Youth Zone will be a welcoming and accessible space for young people to do their homework, build skills and connect with one another to strengthen their community. YWCA Hamilton's RISE Collective, speqtrum programs for Two Spitit and LGBTQIA+ youth and other youth-led initiatives will activate this space in ways that make the Crown Point community stronger, more equitable and more inclusive.
IMPACT LAB
Empowered by Brian McComb and C.F.F. Stainless Steels Inc., the Impact Lab serves as a flexible multipurpose space designed to house YWCA Hamilton's programs and services to transform the lives of women, girls and families. With a focus on skills development and training for women, young women and girls, the potential of the Impact Lab is limitless. Located on the main floor, the Impact Lab will feature a Makers Lab and floor to ceiling windows.
AFFORDABLE HOUSING WING
Empowered by the Campbell Family and Starward Homes, our affordable housing wing will welcome the 50 women and women-led families to their new permanent, affordable homes. Each floor will have 12 or 13 1,2 or 3-bedroom units for women and families. Residents will access their new homes through a dedicated entrance at the north end of the building and take an elevator up to their floor which has large, bright hallways. Each unit has large windows to let in the natural light, modern finishes, and spacious layouts so residents can turn their house into a home.
Each affordable housing floor has been empowered by:
Aldo DeSantis and Multi-Area Developments Inc.
Danny Gabriel and Marz Homes
Jeff Paikin in Memory of Anna Giacomodonato
Judy and Bruce Robinson and Family
EVENTS & COMMUNITY ROOM
Empowered by KPMG, the Events and Community Room is open to the public year-round to provide a space for community events and social gatherings. Designed as a flex space, this room can transform to meet the needs of YWCA programming and community interests.
RESIDENT LOUNGE
Empowered by Branthaven, our resident-only lounge is a recreational, social and functional space located at the very top of the Putman Family YWCA designed for residents to spend time together. The Resident Lounge sits adjacent to the building's laundry facilities, where residents will gather and multi-task or unwind in a space designed with their enjoyment in mind. Comfortable soft seating, a television for movie nights, and a community library will ensure that this space feels like an extension of the homes of residents. With sweeping views of the city from the sixth floor, residents will be able to gather with one another and connect to build strong, healthy friendships. Moms will be able to connect and learn from each other as their children play and read together.
RESIDENT OUTDOOR ROOFTOP
Located on the 6th Floor, the resident-only rooftop is a community space for social gatherings, outdoor play and simply a space for those who reside at Putman Family YWCA to take in the views and enjoy the fresh air.
Have questions about the Putman Family YWCA? Learn more below!
Can't find the answer to your question? Contact us!
When will the Putman Family YWCA open?
In December 2021, women and families began to receive keys to their new homes and we initiated a phased move in process to ensure the safety of our staff and new tenants. Pending Covid-19 restrictions, we hope to officially open our doors to the public in Spring 2022.
What kinds of programs will be offered?
YWCA Hamilton is ever-evolving to meet the changing needs of our community. The Putman Family YWCA offers programs and services that strive to promote neighbourhood connections, as well as leadership and empowerment programming for people of all ages.
 Our innovation, community and seniors spaces offer:
Employment training, social enterprise and microlending, new apprenticeships and business start-up support.
Active living and engagement for citizens 55+.
Health and wellness programming including fitness, yoga and more.
Safe space for youth and community members to utilize.
Flexible rental spaces for community partner use.
How can I inquire about living at the Putman Family YWCA?
Of our 50 units, 15 were reserved for women living with a developmental disability. Priority for all units has been given to women from marginalized communities, who are Indigenous, who have experienced domestic violence and/or homelessness.
To learn more about affordable rental opportunities please contact the Putman Family YWCA Reception Desk at (905) 522-9922 ext 501.
Is there a waiting list to live there?
Currently, there is a waiting list to live at the Putman Family YWCA. If you are in need of housing, we encourage you to contact us for more information. Members of our Women's Housing Services team are able to provide you with advocacy and support in navigating affordable housing options in our community. 
How can I help?
There are many ways to support YWCA Hamilton. Help build Hamilton with us by supporting the #WomenBuildHamilton campaign. From making a donation to hosting an event, your support will create real change in the lives of women and families we serve. To learn more, visit "The Campaign" section of our website.
Are volunteer opportunities available at the new location?
YWCA Hamilton is supported by over 250 generous volunteers who help power critical programs. The Putman Family YWCA welcomes volunteers to support programs and services benefiting the Crown Point community. Click here to learn more about our current volunteer opportunities.
My questions isn't here. Who can I speak to?
Staff are available onsite at the Putman Family YWCA 24/7 to support tenant and community member inquiries. To connect a member of our team, please contact (905) 522-9922 ext. 501 or 510 or phone (905) 393-9091.
Our address is 52 Ottawa St. North, Hamilton ON.