Women Build Hamilton: Lohifa's Story
Lohifa Pogoson Acker is the definition of a community-builder.
An entrepreneur, a connector, a mother of two, a Nigerian-Canadian, and a volunteer – among many other things – Lohifa's passion for Hamilton and her enthusiasm for making the community a better place is known across the city.
Lohifa – a former nominee for the Women of Distinction Awards – is also a proud supporter of YWCA Hamilton, volunteering her time and infectious energy to help promote marquee fundraising events such as the Women Build Hamilton campaign and Walk a Mile in Her Shoes.
Born in Nigeria, Lohifa first came to Canada with her family by way of London, England. Her family settled in Richmond, British Columbia, where Lohifa did two years of the prestigious International Baccalaureate program before attending the University of British Columbia. Lofiha pursued a degree in biopsychology, neuroscience, and economics and planned to pursue a career in neurosurgery – but a different path was calling.
"I realized I wasn't as interested in biomedicine as I thought I was – I was more interested in alternative ways of healing, and alternative ways of knowing about health and healthcare," she said. "I thought, 'Let's go hear what other have to say about healing."
That decision led Lohifa to a career in International Development. For seven years, she was based in Nigeria, working in public health to strengthen local health systems. Part of her work saw her helping to fight HIV and AIDS in mothers and their children through the Clinton Foundation.
"It was hard work. Sometimes I would work for 20-hour days. It was fulfilling work – but because of everything that was at stake because of the kind of work I was doing, you didn't have as much grace to even consider self-care. When there are so many lives at stake, you think "What am I painting my nails for?," she said.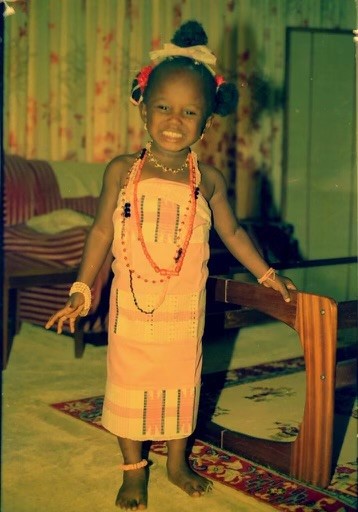 Lohifa needed rest and a change of scenery. As a result, in 2012, she decided to move to Hamilton to be closer to her parents, who had moved to Stoney Creek. Lohifa fell in love with the city, working at St. Joseph's Healthcare in the Integrated Comprehensive Care Program, and becoming involved in a range of community projects and initiatives.
After several years at St. Joe's, Lohifa started to crave more community connection. She had always loved hairstyling – since the age of three or four, she had always done hair for her dolls, mother, her aunties, her friends at boarding school, her classmates at university – and decided to leave St. Joe's in 2019 to start her own hairstyling business.
"As much as I loved my job, I was spending less time being an active member of my community, and more time just serving a small community," she said. "I thought I could be more efficient and beneficial – I wanted to serve in a larger, more diverse capacity. I wanted to extend my impact – and that's what led me to hairstyling."
Lohifa's hairstyling business has blossomed to include members of the Hamilton Tiger-Cats and a stint on Canada's Drag Race – but Lohifa has plans to expand her business even further.
She is enrolled in a social work program at Ryerson University, and plans to combine her passion for hairstyling with the ability to offer formal counselling and support.
"I'm not just a hairstylist – I'm a friend. I share my life, they share their lives, we figure life out together. And I feel like I want to give more in that regard," she said. "My hope is to fuse psychotherapy and hairstyling."
Lohifa says her love of people, of community, and learning has inspired her to become involved in philanthropy, including YWCA Hamilton.
"I find that the best way to learn about life is through and with people; through their experiences. Any experience devoid of other human beings is flat, as far as I'm concerned. You can depend on yourself for the experience, but it will never be as rich as when other people are involved," she said.
"I find that Hamilton is great for that. A lot of small business owners like me don't just want to make money – they want to build community. They want to see a better Hamilton, they want to see a healthier Hamilton, they want to care about their neighbours, and they want to do more than just be a business in the city," she said.
"And that's the kind of space I want to be in. Those are the kind of people I want to be around."