Women Build Hamilton: Sarah's Story
Philanthropy is in Sarah Ernest's DNA.
As the director of Philanthropy and Communications at YWCA Hamilton, Sarah is in charge of raising critical funds that power our programs. She also leads a team of 13 dedicated staff, and oversees much of YWCA Hamilton's outreach in the community, whether it's our fundraising campaigns, our website, our social media, advertising, marketing, and more.
But for Sarah, philanthropy is more than just a job. It's a calling.
Born and raised in rural Nova Scotia, Sarah was brought up by a strong single mother and faced many challenges throughout her childhood and youth, including poverty, homelessness, violence, and addiction.
Among those experiences was living in second-stage transitional housing with her Mom and brother, in order to flee abuse and violence in their home. As a six-year-old, Sarah and her family spent almost a year in the shelter, while her mother gained the support and skills she needed to help start a new, violence-free life.
"Why I'm so passionate about the work that I do is because I was a child that benefitted from philanthropy and the kindness of others," Sarah said. "We were there. Our family was there. I lived it. And I know what a difference it makes in peoples' lives. And I want to give back because people gave to me, my mom, and my brother."
"I feel called by the community to support those who need a boost during a hard time, because we were the family that needed that boost too — especially over the holidays."
Sarah, who put herself through university by winning scholarships and juggling multiple jobs, first became involved with the YWCA movement when she undertook a placement at YWCA Halifax as a course requirement. She eventually worked her way up to a leadership role in the philanthropy department – a role that ignited a passion for giving back to the community. Sarah went on to lead a $9 million capital fundraising campaign at YMCA of Greater Halifax/Dartmouth, leading the charge to build the John W. Lindsay YMCA in downtown Halifax.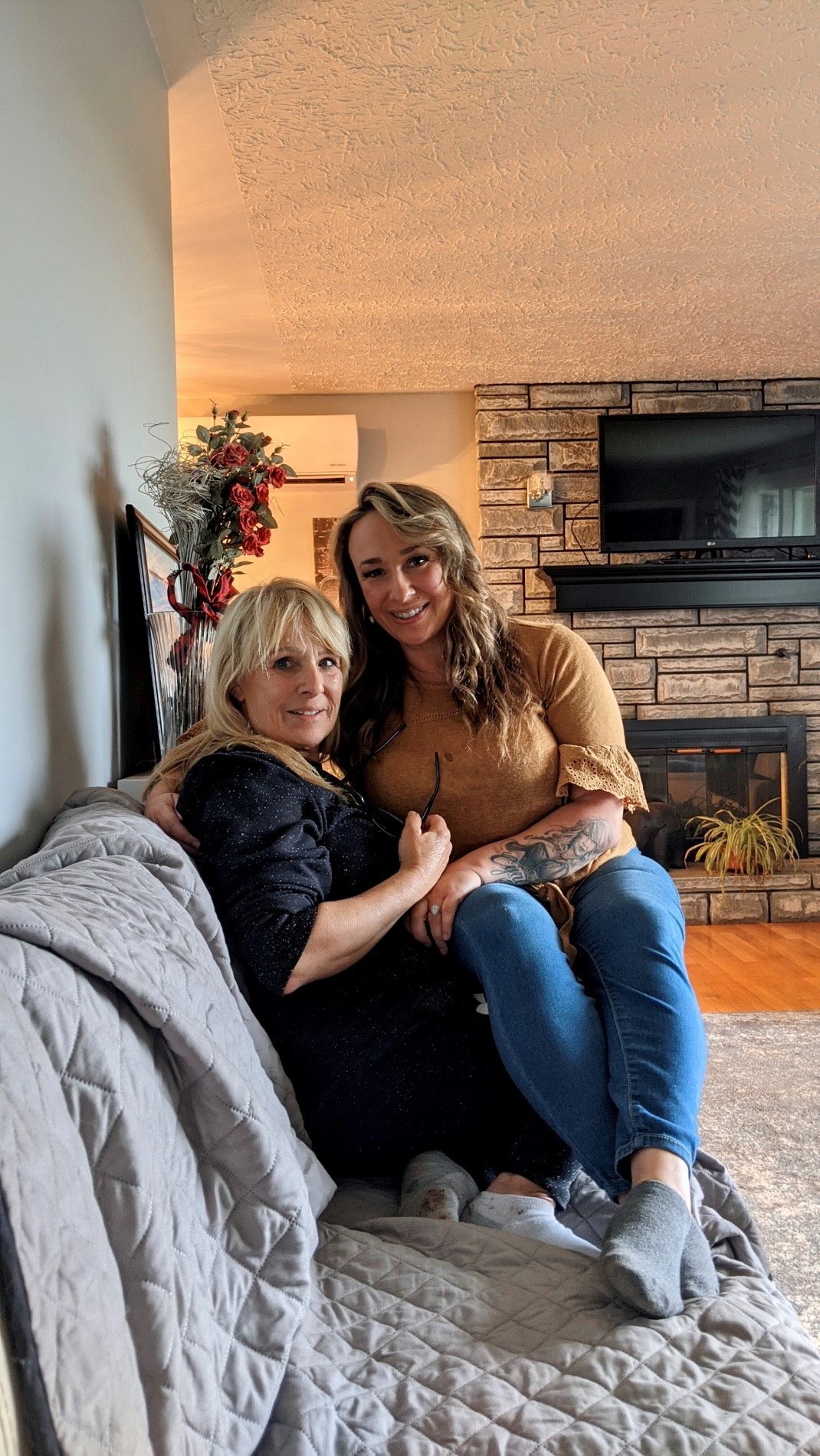 Sarah was then recruited to join the team at YWCA Silicon Valley in San Jose, California as the Director of Philanthropy, where she embarked on the organization's largest fundraising campaign and exceeded all goals in a competitive Bay Area market. During her tenure at YWCA Silicon Valley, she also helped to launch Curated Pathways to Innovation™ in partnership with Hewlett Packard Enterprise, Purdue and Santa Clara University to engage women and underrepresented minorities in STEM through the development of a first-of-its-kind app, an app that would later be brought to Canada and implemented by YWCA Hamilton. During her tenure, Sarah also led the highest-grossing events in YWCA Silicon Valley's history, and secured the highest amount of earned media in history through thoughtful advocacy and awareness campaigns.
In 2018, Sarah joined the team at YWCA Hamilton as the Director of Philanthropy and Communications. Since then, she grew her department from three staff in 2018 to 13 staff in 2022, representing a 333% increase, while strengthening the organizations philanthropy portfolio through the Covid-19 pandemic to ensure that we had the funding we needed to be there for those who needed YWCA Hamilton most. In total, Sarah has raised almost $30 million for local charities.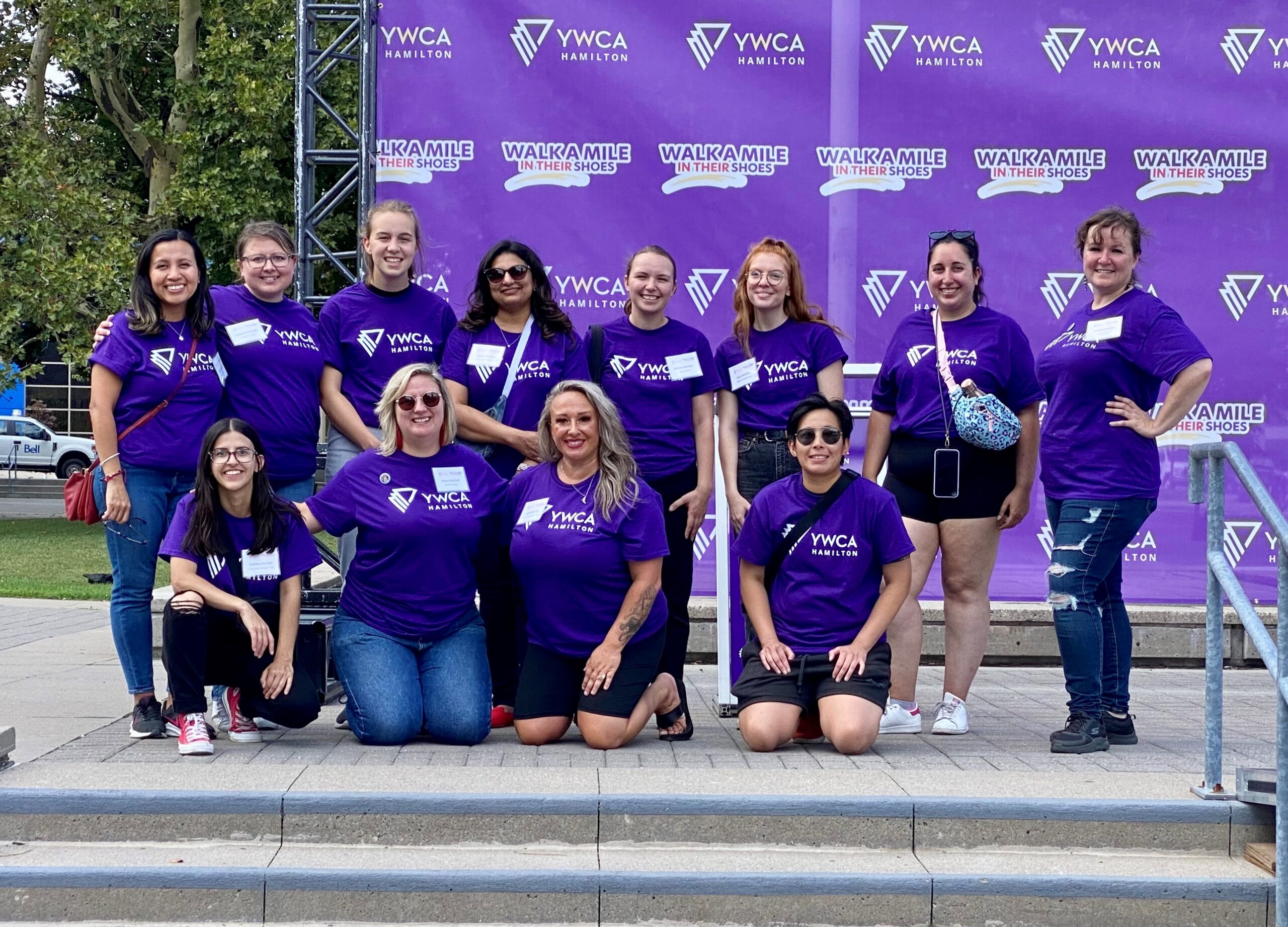 Sarah and her team at this year's Walk A Mile in Their Shoes event.
But of all her experiences, it's the #WomenBuildHamilton campaign that stands out to her the most. This ambitious $5 million capital campaign is in support new Putman Family YWCA on Ottawa Street, a first-of-its-kind facility which provides affordable housing to 50 women and women-led families – and, it's a campaign led by women, in support of women.
"The Women Build Hamilton campaign from day one was everything to me," she said.
"To highlight and focus on the power of women in philanthropy, and to focus on the difference that is made when you support women, that was the highlight of my career. Women Build Hamilton holds the most special place in my heart."
While Sarah and her team are working hard to cover the costs of the Putman Family YWCA, over the past few months, Sarah has been able to see the result of her hard work in action as the building has filled up with residents.
"When I walk into Putman, I see community, and the kindness of members of Hamilton and Halton who have come together to make this happen," she said.
"It is a beautiful thing to see mom and babies and families living their lives, going about their day. It's just so rewarding to see."
Thanks to the hard work of Sarah and her team at YWCA Hamilton, and the support of community members, we are getting close to hitting our ambitious #WomenBuildHamilton fundraising goals before our March 2023 deadline. We only have $600,000 left to raise toward our goal of $5 million – but we need your help to get there!
There are many ways to support us as we fundraise to cover the costs of the Putman Family YWCA, including making a donation online, joining our Builders Circle, shopping our YWCA Hamilton store, and participating in our "Tap to Give" campaign by hosting a touchless donation station at your businesses or event.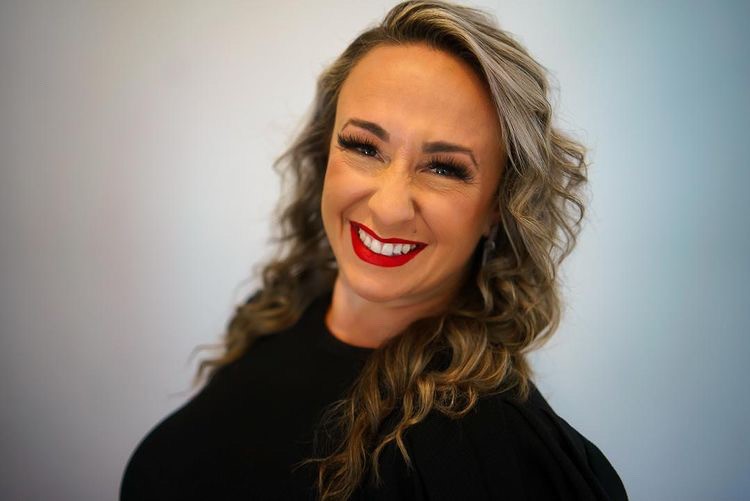 The one and only Sarah Ernest!
"We were there. Our family was there. I lived it. And I know what a difference it makes in peoples' lives. And I want to give back because people gave to me, my mom, and my brother."